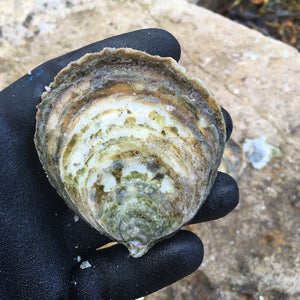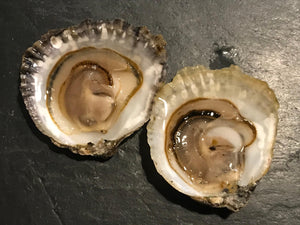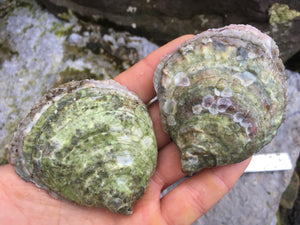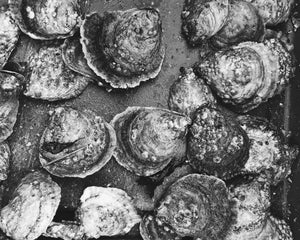 Our Native European Flat Oyster (Gaelic: Eisear Oir - Gold Oyster) grown on our farm in An Loch Beag (Little Loch Broom), Wester Ross, Scotland.

Our Scottish Native oysters are 100% sustainable farmed and are not fished or harvested from any wild beds.
The Native oyster is the indigenous oyster of Europe, although it is arguably now an endangered species. Famous the world over due to its unique taste, Ostrea edulis, is commonly known as the oyster connoisseur's oyster of choice.

An ancient, wild and undomesticated breed that almost resists any attempt at cultivation. Temperamental and taking much longer to grow, these are a hard won prize, but all the more alluring for being so.   
They range in colour from a rich cream white to pale brown, often with light brown, deep red or blue concentric bands. Our older stock often takes on a lovely green tint that reflects the algae rich waters in which they grow.
We hand clean all Natives to ensure that the full beauty of the shell shines through. These are unique and rare and represent Scottish shellfish at its best. 
As these are a native species they are only available outside of the breeding season – that is they are only eaten when there is a r in the month, so they are available from September to April only.
Taste Profile
Light brown coloured meat, initial taste is of sweet salty brine followed by a subtle metallic "coppery" finish that lingers delightfully on the palate.
Delivery Notes
Our aim is to provide our customers with the highest quality oysters. Oysters that not only deliver that essence of the ocean but also look great.
To do that, we need time to prepare them. All of our oysters are individually selected from the farm and then hand cleaned. Following this, and subject to availability, we aim to ship orders on Tuesday, Wednesday and Thursday of every week. Under normal circumstances delivery shall be the following day.
All of our products ship in a 100% recyclable cool box. 
To ensure our oysters reach you in the best possible condition we use a 24 hour next day delivery service. Unfortunately this means our shipping costs are slightly higher than others but we believe this is the best way to preserve the integrity of our products. As way of a guide, the delivery cost shall be £9.95 up to 10kg which covers a single order of any variant displayed on this page.
You can find further information in our FAQ.
If you have a special request, then please email us at:  sales@scottishshellfishcompany.com
Customer Reviews
Excellent service
Delivery was right on time and the packaging kept the oysters fresh and alive. The oysters had a good fresh flavour. Thank you!
04/17/2022
Winston B.

United Kingdom
Native oyster purchase
Excellent quality oysters. Robust, well insulated packaging and prompt delivery, thank you!