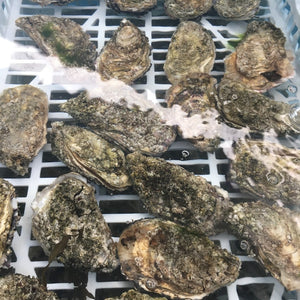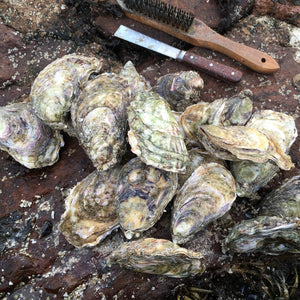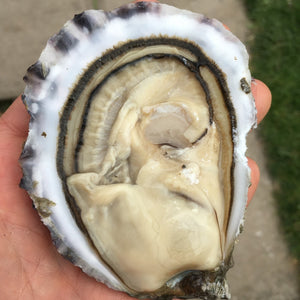 Our Special Extra Large Scottish Rock Oysters

 

(Crassostrea Gigas).
These are our special Extra Large Scottish Rock oysters, a Big Lad (Gaelic: Balach Mòr), grown on our farm in An Loch Beag (Little Loch Broom), Wester Ross, Scotland. They are the same animal as our standard Rock Oyster (Gaelic: Eisear Cloiche) but they have been cultured for a couple of extra seasons to make them nice and big! 
Rugged and robust, they reflect the pristine and wild environment in which they grow, Scottish shellfish as it should be. These 'biggies' weigh in at 150g+.

These oysters grow well on our farm and our equipment ensures that the oysters hold a teardrop shape with a deep cup as opposed to the classical flute shape. This results in an oyster that not only looks aesthetically pleasing, but one that delivers a larger meat.

They range in colour from white to deep purple and many of ours show an interesting stripped pattern. As we believe that you 'eat with your eyes', all of our oysters are hand cleaned to ensure that the full beauty of the shell shines through.
The cool clear water on our farm, which prevents them from spawning, means these oysters are available all year round.

Taste Profile
Deep plump creamy coloured meat, initial taste is big and fruity followed by a pleasant cucumber finish.

Delivery Notes
Our aim is to provide our customers with the highest quality oysters. Oysters that not only deliver that essence of the ocean but also look great.
To do that, we need time to prepare them. All of our oysters are individually selected from the farm and then hand cleaned. Following this, and subject to availability, we aim to ship orders on Tuesday, Wednesday and Thursday of every week. Under normal circumstances delivery shall be the following day.
All of our products ship in a 100% recyclable cool box. 
To ensure our oysters reach you in the best possible condition we use a 24 hour next day delivery service. Unfortunately this means our shipping costs are slightly higher than others but we believe this is the best way to preserve the integrity of our products. As way of a guide, the delivery cost shall be £9.95 up to 10kg which covers a single order of any variant displayed on this page.
You can find further information in our FAQ.
If you have a special request, then please email us at:  sales@scottishshellfishcompany.com